Taro Watanabe wins 2021 WRV Outer Banks Pro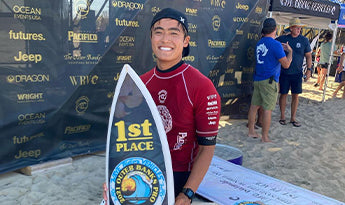 A huge congratulations is in order for 19 year old Wave Ki student Taro Watanabe, 
for showing great form in winning his second WQS event in North Carolina at the WRV Outer Banks Pro last week.
On his way to victory, Taro downed former CT surfer Nat Young in the Semi Final and out surfed East Coast stand-out Michael Dunphy in the final for a convincing win and further solidifying himself as one to watch in the upcoming Huntington Beach Pro, starting tomorrow. 
In a gracious gesture, Taro dedicated his win to my late father Joe Gerlach.
Taking it one step closer to achieving his dream of qualifying for the WSL Championship Tour, this win set Taro up to receive the event Wild Card in the US Open Challenger Series.
Since learning that he will be in the event we have doubled down on his Wave Ki private sessions to customise his Wave Ki practice for the reliably small and tricky Huntington conditions.
The very same focus and commitment was placed on Conner Coffin during his rookie year at Bells Beach in 2016 when he beat Jordy Smith and Mick Fanning in sizeable surf, during the 4th round. A coming of age victory that announced his arrival on the world stage and proved he was clearly ready and capable of hanging with the big boys on tour.    
Be sure to look out for Taro this week in HB. His surfing is the rarest combination of style, power, flow and critical positioning, and coming into this event off such a hot-streak should have his rivals on high alert.
Taro has been consistently practicing Wave Ki since his 11th birthday in 2013. We are so proud of him...

...Go Taro!