Gerr's Corner - feat. Special Guest: Kelly Slater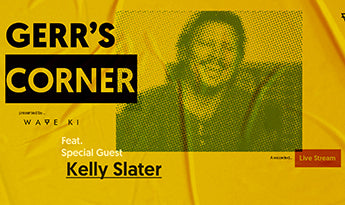 As a part of our new 'Talk Story' series via IG LIVE, Brad Gerlach recently had a chance to pick the brain of special guest (and G.O.A.T) Kelly Slater on all things surfing.
The discussion focused on the Front Side Floater and the many and varied kinds and approaches there are to doing them, who did it best back-in-the-day and how they remain an extremely functional, fun and critical manoeuvre in modern day surfing.
If you missed it, no biggie... we recorded the entire thing and posted it to our youtube channel here.
We are committed to delivering in-depth content for our members and a huge driver for this series is to provide expert insight and explain how practicing Wave Ki is essential to improving your surfing, regardless of your experience.
Kelly and Gerr go deep on this one, it's well worth your time. They discuss the Olympics, the relevance of the modern twin fin in surfing, Occy's performance on Dancing with the Stars and they cover the intricacies of the Front Side Floater in finite detail.
Our friends over at Surf Splendor have also turned the discussion into their latest podcast. A big thanks to David Lee Scales for the tireless support.
Check it out.